What Does ShearBreaker Do?
The technology behind the ShearBreaker bracket was designed to provide superior shear stability against seismic and wind shear conditions.
This is the first technology of its kind. Nothing else has ever provided this kind of seismic and wind stability. And, for the first time, the ShearBreaker allows the use of continuous ridge vents in blocked or unblocked diaphragms
The ShearBreaker is designed for universal application on pitched roofs from 1:12 to 20:12 on asphalt shingle, metal and tile roofs. We look forward to making a difference in working with you on future projects.
Certified Seismic Qualification Agency
Garwood Manufacturing Co., Inc., commissioned Tobolski Watkins Engineering, Inc., a premier, nationally known engineering firm focusing on providing their clients with valuable products through the seamless integration of theory and practice. They are a recognized leader in seismic certification (or seismic qualification) with a substantial history of successful project delivery for IBC, OSHPD and nuclear applications and have obtained status as a Certified Seismic Qualification Agency through an ICC-IAS accredited agency. Tobolski Watkins Engineering thoroughly validated performance facts and provided detailed reports on the calculations of the ShearBreaker.
This product has been certified for ICCES which now gives assurance for the trade. The attached
documentation details the technical aspects of the ShearBreaker.
A Sense of National Urgency…
National Seismic Hazard Map
The U.S. Geological Survey (USGS) National Seismic Hazard Maps display earthquake ground motions for various probability levels across the United States and are applied in seismic provisions of building codes, insurance rate structures, risk assessments, and other public policy.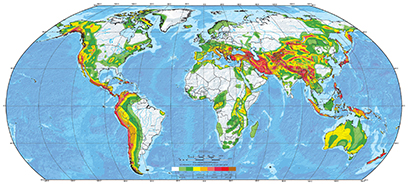 A Sense of Global Urgency…
Global Seismic Hazard Map
Produced by the Global Seismic Hazard Assessment Program showing earthquake ground motions for various probability levels around the globe indicating how acute the problem of massive damage caused by seismic activity.
---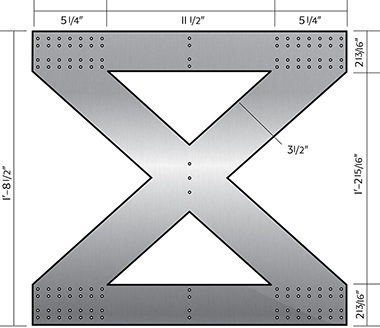 16 Inch Bracket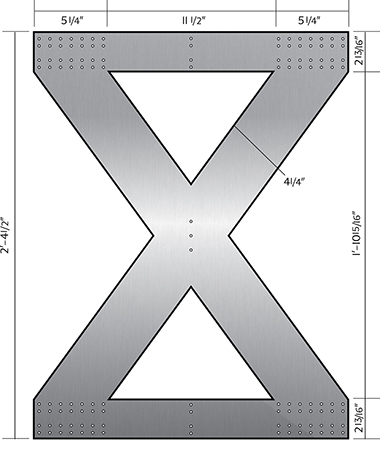 24 Inch Bracket
33 and 43 mils thick
ASTM-A653–SS Grade 33 and 43 Steel G90 Zinc Coating
Use 10d common nails 0.148 (5/16″) diameter/2.5″ long.
Installation
Installation instructions for the ShearBreaker brackets.
The 16″ or 24″ ShearBreaker bracket use will be determined by the distance between the roof rafters. The thickness, 33 mils or 43 mils thickness or sistering rafters must be determined by an architect or licensed PE.
The building must have a ridge board minimum 2″ x 4″ running the entire length of the ridge. Buildings with pre-fabricated trusses will need to put a short riser board up to the edge of the plywood sheathing.
Be sure to use the pre-drilled nail holes as guides for nailing to the roof rafters NOT just the sheathing.
SHEAR BREAKER INSTALLATION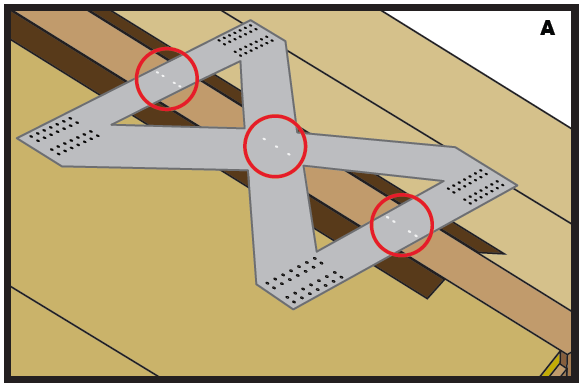 (drawing A) Line up the ShearBreaker bracket along the top of ridge line. Secure the bracket with 10d Common nails (2." long) in each pre-drilled hole along the ridge line.
(drawing B) Bend the bracket to conform to the sheathing and secure to the rafters with 10d Common nails in each pre-drilled hole in the inside corners (as indicated) of the bracket to secure bracket for final nailing.
(drawing C) Continue to nail bracket to the roof using pre-drilled holes–to be sure to nail directly into the rafters NOT the sheating.
(drawing D) If your architect or PE requires a sister (second) rafter, you would then use the second two rows of empty holes to secure the bracket to the second rafter.
---

---
(drawing F)
Roll out ridge vent along ridge line of roof according to manufacturer's installation instructions.
(drawing G)
Install your ridge cap shingles according to shingle manufacturer's instructions.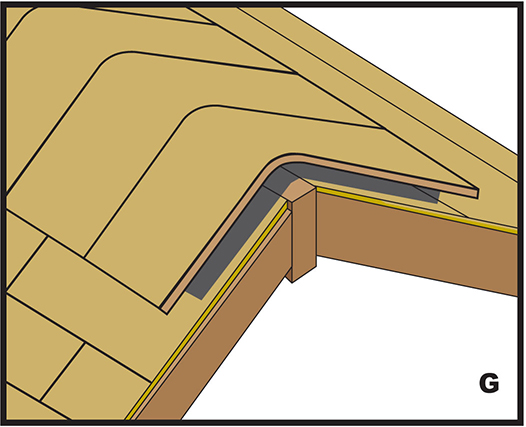 VENTILATION OPTIONS
FOR SHINGLE AND CEDAR ROOFS
RidgeVent designed to work with ShearBreaker™
Our standard roll-out ridge vents are designed to work with ridge caps–7." wide to 10." wide. Vents your attic/ building–allows unwanted heat and condensation to escape through the ridge. Adheres directly to the roof for easy installation. Available in 25', 50" and 100" lengths.
FOR METAL ROOFS
ProfileVent®
Ridge vent for metal roofing. Cut to fit standing seam and screw-down panels. We manufacture over 40 different profiles. Available in 25', 50" and 100" lengths.
FOR TILE ROOFS
TileVent®
Ridge vent for tile roofs soon to come.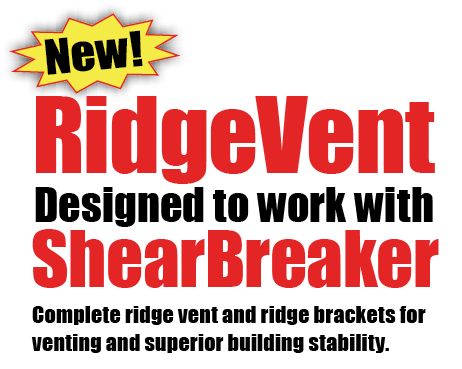 17.1 square inches net free area per lineal foot
Adheres directly to the roof for easy installation
Vents your attic/building–Allows unwanted heat and condensation to escape through the ridge
Once installed, it's almost invisible
Eliminates waste–every cut-off can be used
Easy to install–No complicated fitting, wrapping or connectors
Non-wicking matting–cannot crack or dent during shipping or installation
Light and flexible, easy to handle and transport
Won't corrode, rust or turn brittle/Won't burn/Won't damage from hail or ice
Prevents dust, snow, rain and insects from getting into building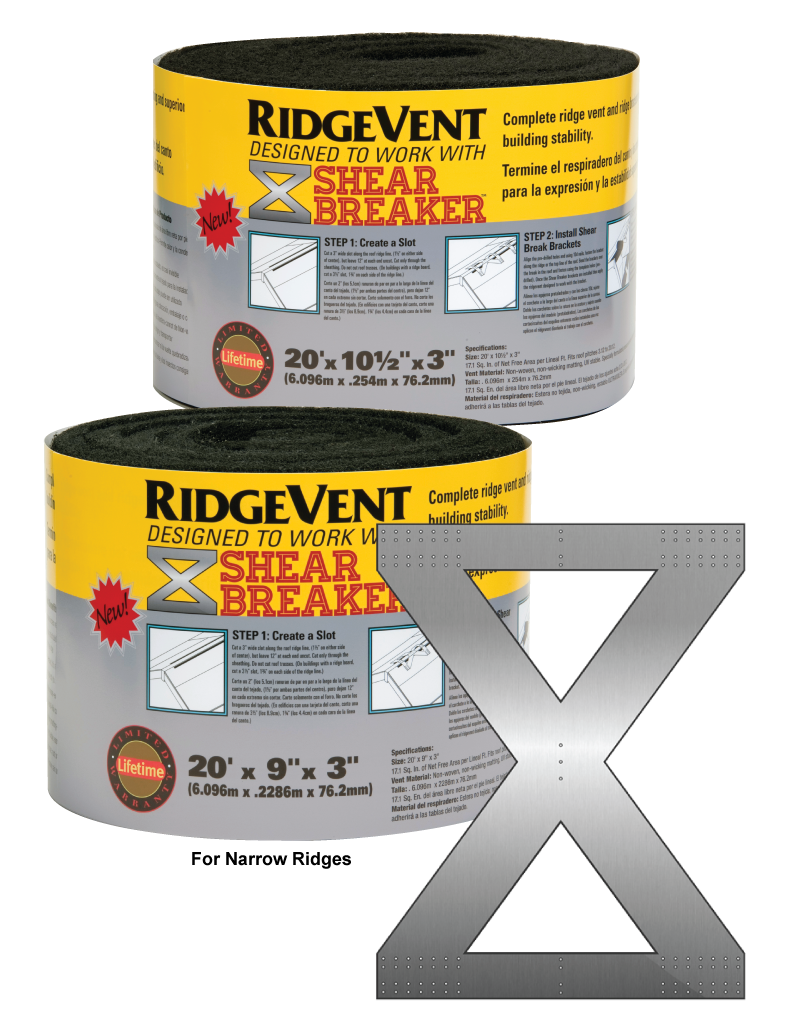 ShearBreaker.com
Ask your roofing material supplier
or contact us at 800.300.9515
California Rep:
Kelly Berkompas
949.294.5428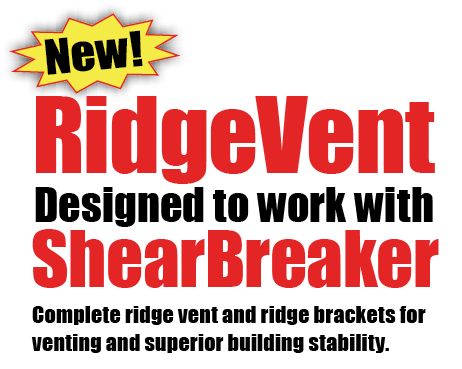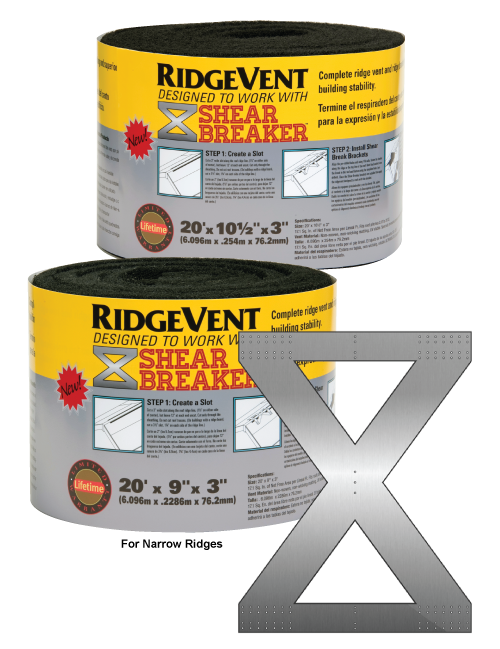 How to Order
ShearBreaker.com
Ask your roofing material supplier
or contact us at 800.300.9515
California Rep:
Kelly Berkompas
949.294.5428